Passage of Time
I set up with my tripod in the cloisters of Canterbury Cathedral on Graduation day and a slow shutter created a passage of time as scholars walked proudly with their families.
Feeding Frenzie
Slow shutter speed to allow a little intentional camera movement, captured these gulls squabbling for food.
Beautifully Posed
I arranged a fun workshop for a small group of photographers recently. 'Creative Dance Photography using Natural Light' Our dancers, Emily and Emma performed beautifully for us and were very patient.
This is a composite image of two photographs but the background blurred image was flipped and used twice.
Prepare to Dance
At my Workshop 'Creative Dance Photography using Natural Light' I captured Emily placing a hat on her head and preparing to dance. A little intentional camera movement using a slow shutter speed provided an abstract high key result.
Taken just as the sun was rising through the woodland with a foreground of heavily snow laden grasses and brambles. Another chance to play with ICM.
Emma and Emily
Another composite of two images taken at one of my workshops 'Creative Dance Photography using Natural Light'
Just a short walk from my house I found myself in 'Narnia' at sunrise. The warm light gently kissed the tops of the trees and a little ICM added to the magic.
Bathed Breakwaters
Choppy winter tide and Siberian winds made an interesting challenge at New Romney on the Kent coast UK. A six stop filter helped to slow the shutter enough to give a little movement in the waves.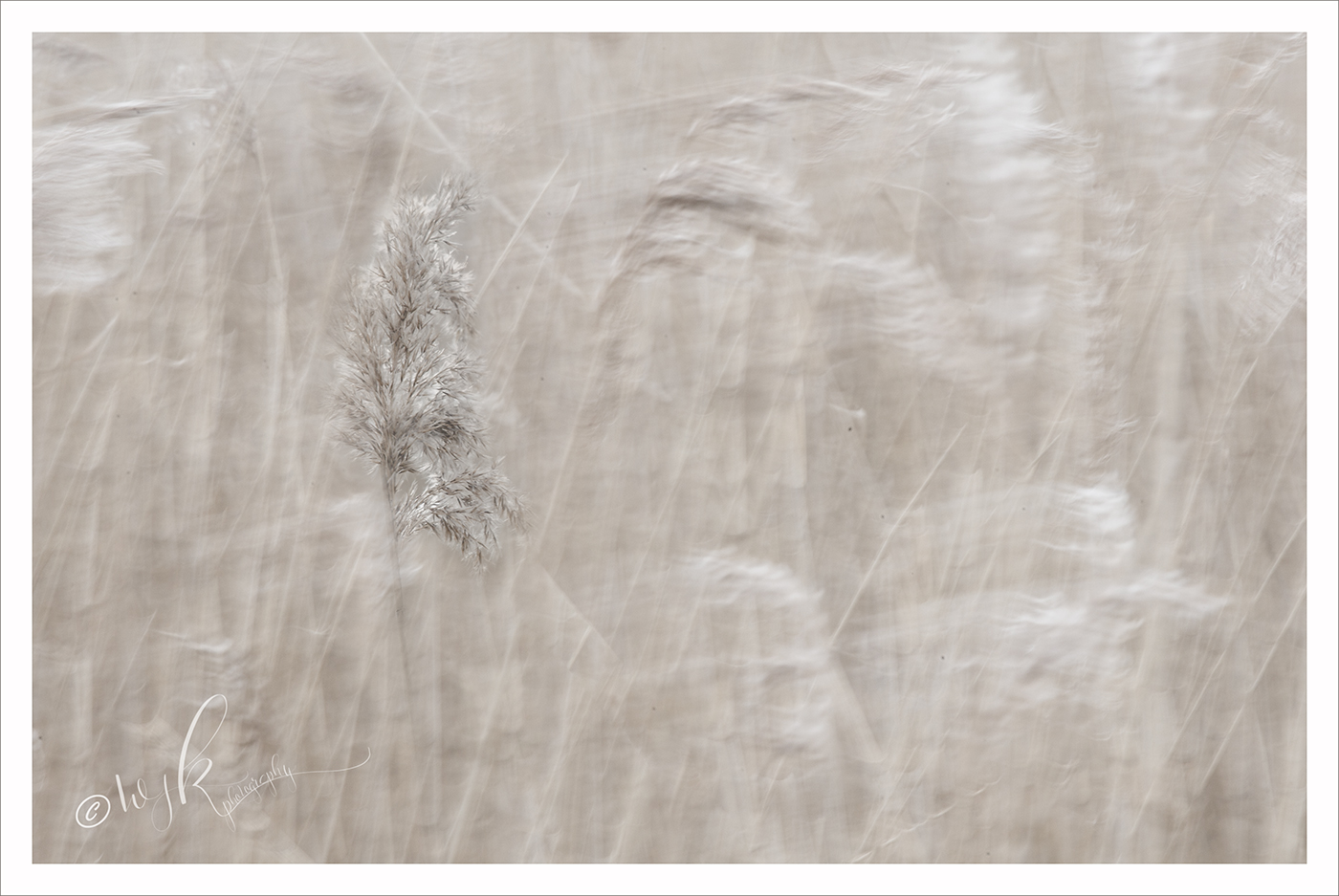 Multiple exposure in camera created a soft feel to the reeds at Dungeness on the Kent coast, UK.
Mellow Mood
A composite of 4 images of Agapanthus taken in my garden. Good practice for using layers, masks and brushes.
Sunflowers in the Breeze
Unusual to see a huge field of sunflowers near Dover, UK. Instead of fighting the gusty wind I went with it and slowed the shutter for a little horizontal ICM (Intentional Camera Movement) All achieved in camera with minimal RAW editing.
A Glimpse of Spring
I treated myself to a couple of pots of flowering spring bulbs and before planting them out I played with natural light taking several images both in focus and out of focus. A few of these images resulted in this composite using layer masks.
Newborough Beach
Some slight intentional camera movement added to the feeling of motion amongst the windswept dunes surrounding the partially submerged forest trunks at Newborough Beach on the Isle of Anglesey, UK.
Autumnal Tones
Multiple exposures in camera created another mood to this Scottish Autumn scene.
Banks of the River Etive.
Enjoyed the last of the autumn colour in November in the far North of Scotland. A little ICM gives a painterly feel to this image
Beads on Birch
On a rare rainy day in November in Scotland it didn't manage to stop play. A wide aperture softened the background and left the raindrops and Silver Birch bark more prominent in the frame.
Cowslips through Green-veined Orchids
I found myself lying flat on my tummy in Somerset, UK for this image. A beautiful grassy bank at sunrise, strewn with Cowslips and Green-veined Orchids. With the camera as close to the ground as I could manage I manually focused on the Cowslip in the distance which resulted in a lovely diffused yellow and purple foreground. Very little RAW editing required.
Dancing Anemone
Had fun practicing this multiple exposure technique.
Gerbera Daisy Dancing
Another attempt at multiple exposure and ICM all achieved in camera
Lowery visits Iceland
One of Iceland's most famous waterfalls at Skôgafoss was overrun with tourists on my last visit. It was difficult to get a decent image of the falls without crowds. I decided to slow the shutter speed and use a little downward ICM (intentional camera movement) to blur the people and they remind me a little of L. S. Lowery's matchstick figures. All achieved in camera.
Dinorwic Calls Time
This is one of my first successful composite images. The main image was taken in the canteen area of the Dinorwic Slate Mine Museum In Llanberis, North Wales, UK. I noticed a photograph of previous workers hanging in the wages office area of the museum. The cheaper imports of inferior quality Slate from China led to the closure of the mine. So to complete the story I added a few images of clocks to the composite to indicate the 'golden handshake' that some of the workers may have been offered.